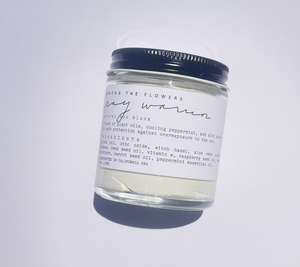 A new and improved version of our plant-powered, non-toxic blend of UV shielding mineral powders, plant oils and cooling peppermint essential oil. This blend is intended to be used as a barrier which absorbs into the skin over time.
Use: Apply to skin once every couple of hours for the most efficient blocking power.
Ingredients: jojoba oil, zinc oxide, witch gazel, aloe vera juice, beeswax, hemp seed oil, vitamin e, raspberry seed oil, sea buckthorn, carrot seed oil, and peppermint essential oil.