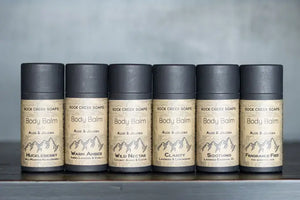 Rock Creek Soaps Body Balm is a solid waterless lotion, like a giant lip balm for your skin. Intense moisturization perfect for all skin needs. Especially beneficial for dry skin, sun burn, tattoos & after exfoliation.
Rock Creek Soaps uses biodegradable and recyclable packaging is lined with a plant-based, wax paper lining that is fully compostable, creating an oil-proof shield from the outer paper.
Made from the best ingredients - no cheap filler oils!
Mango & Cocoa Butters, Beeswax, Jojoba & Argan Oils, Aloe & Orchid extracts, Lanolin, and more! 
Ingredients: Mango Butter, Beeswax, Fractionated Coconut Oil, Sunflower Oil, Cocoa Butter, Argan Oil, Jojoba Oil, Aloe Leaf Extract, Lanolin, Canola Oil, Orchid Flower Extract, Tapioca Starch.
Phthalate Free Fragrance Vegan, Preservative-free, Cruelty-free, Paraben-free, Hypo-allergenic, Aluminum-free, Formaldehyde-free, Eco-friendly, Recyclable
Handmade in Montana.
Soothing - Lavender Essential Oil

Wild Nectar - Blue Agave, Sweet Coconut, Lush Cactus Fruit & Fresh Citrus

Warm Amber - Black Amber and Lavender with touches of Vanilla and Musk